Book Review: Just Cause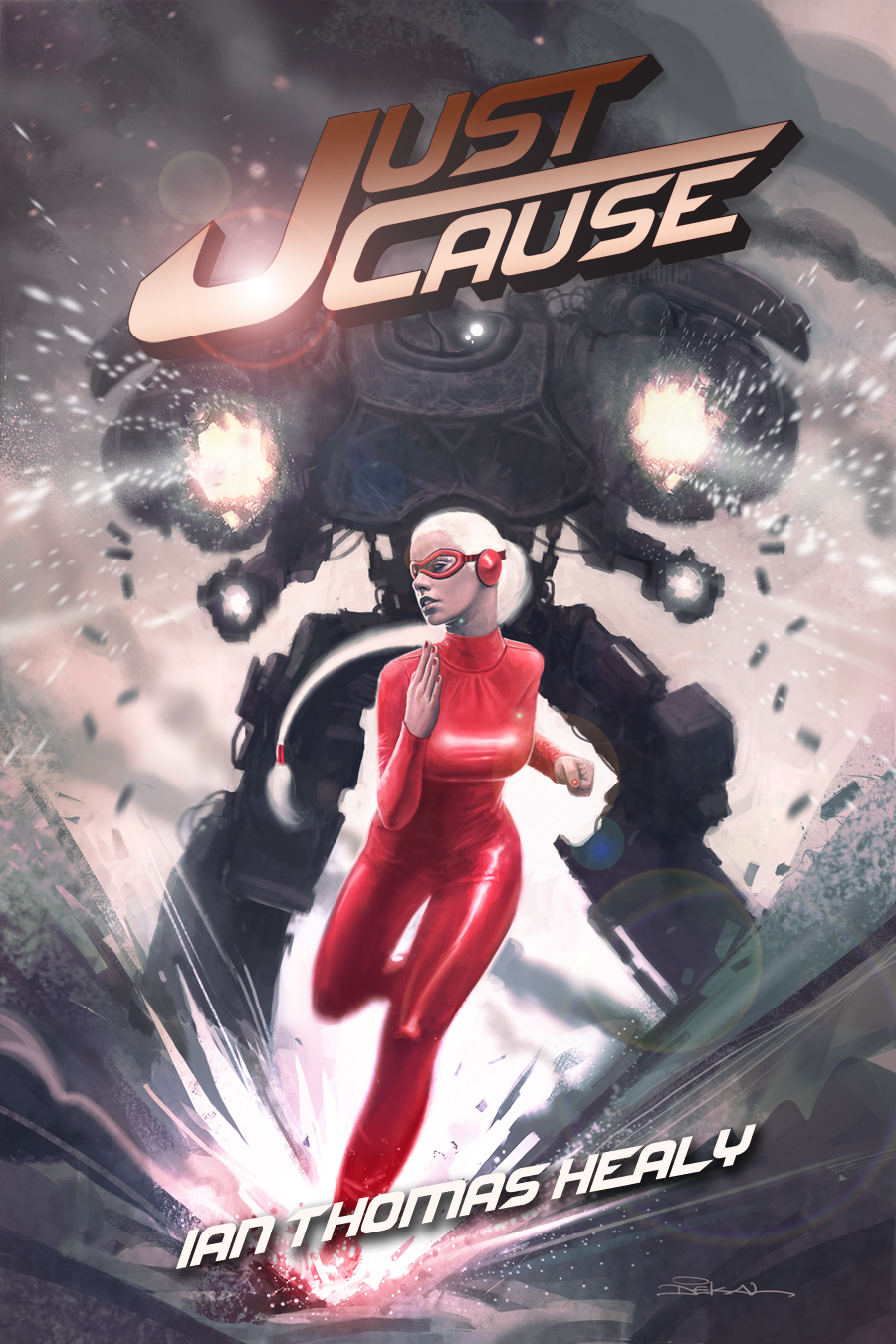 Ian Healy's Just Cause is a great superhero book because it creates a world that is so close to our own we almost think that maybe these things did/are really happening, it's just that we don't live in the right city, and don't maybe have that special brick touch pattern to get us to Diagon Alley. Healy creates a realistic setting, characters, and world history to put us right there in the world where superheroes are paid by the government, and the privately owned groups are wannabes.
Setting: we're not in Gotham, or Metropolis, or another planet, we're in Denver, Arizona, Guatemala. The settings are described with enough detail that we feel there with our hero, but not so much that, Tolkien-like, the action is put on hold for the descriptions. It's perfectly balanced. The way the climate affects the characters is spot on and realistic as well.
Characters: the parahumans in this book are just like people we all know, and nothing like the superheroes we know. Okay, maybe you could say that Sally's speeding powers are a bit Flash like, but as a character she's nothing like the Flash. It's heartening to have a female protagonist with just the right mix of honoring her family history while also acting like a teenager about them. It's refreshing to have the perfect balance between YA relationships, advice from adults, snappy dialogue, and thrilling action scenes. Our hero is neither too focused on revenge, nor too passive, but a compelling, realistic combination of both. The parahumans are absolutely unique (the Christian centered private superhero group is a fascinating idea). I mean, who in comics is at all like Sondra Desert Eagle? And don't tell me Hawkman. It is a nice thing to have a big sister type helping us out. I wonder how much better Bella's life would have turned out had she had a Sondra. Does Sondra's advice get a little didactic? Well, just a little. But again, it is completely within her character to be so, and it is excellent advice for any young readers. Mustang Sally as a hero is just smart, sassy, and young enough that we have fun with her, turn pages waiting to see how she solves the next mysterious piece of the plot puzzle, and we get lectured at so that world details are filled in for us, without the dreaded info dump.
History: each chapter starts with a quote about some aspect of para human politics or machinations. These quotes so thoroughly and realistically build this world, that you might just find yourself looking up the sources to see where the quote came from. Even though they're made up. The figures from history are completely drawn (and the villains are scary, threatening, not over the top) and we are left with obvious hints at sequels to come, but with a stand alone plot that will satisfy till the next one is out.
Bottom Line: this is a fantastic book for YA and adult readers alike. I literally couldn't put it down.   ~Prof. Jenn
Below, enjoy this documentary by Two Filmingos about Healy's recent book signing in Boulder, CO.