American Horror Story — Halloween parts 1&2
This two-part episode packed in a lot of information, while somehow raising more questions than it answered. Look out for AHS Murder House spoilers ahead.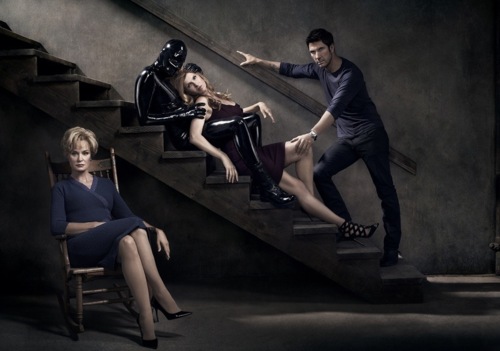 First, it's time to celebrate, because I was actually right about something! One of my (many) speculations about Tate is true–he is Constance's son! That small tidbit was overshadowed by the questions about him brought up in this Halloween two-parter. For example, in one of the scenes he was wearing the rubber suit. Does that mean he is always the guy in the rubber suit? I'm hoping not, because gross. There's a weird discrepancy with him. He seems to understand the minutiae of the Murder House, and appears to be able to manipulate some of it to his will (as in the episode in which he scared Violet's bully). But then we are introduced to the dead high-schoolers who claim to have been murdered by him, and he unravels into genuine bafflement. It's difficult to reconcile these two parts of Tate. More importantly, is he one of the many walking dead on the show? (I'm guessing probably yes).
I was absolutely shocked by Addie's death in this episode. Addie was mowed down by a car whilst trick-or-treating, in such a casual way it almost seemed an afterthought. I wonder if it will ever be revealed how the dead function in the show. Will Addie be able to come back because Constance pulled her to the Harmons' lawn? If she can come back, it seems like it could be difficult to keep this secret from Tate.
Hayden returned in this episode. I find her storyline tired, but I did like her better as a vengeful spirit, and the scenes between her and Vivien were powerful and needed. Vivien is really starting to get on my nerves. I'm glad that she finally had the guts to kick Ben out, but SHE was the one who wanted to leave that house, and with good reason, so why was HE the one who left? Wasn't that a good opportunity to get her and Violet out of there? Why do the characters in AHS have that typical horror-themed lack of good judgement?
Wild speculation time. Because I can't take any normal people for granted, I'm going to say that there's something off about the security guy who Vivien is becoming attached to. I fully expect everyone to die by the end of this season, but I still have my fingers crossed that Violet will make it out.
Addie and the dismembered baby delivered to the original house owners bring the House Death Toll to 16.
This entry was posted by Mel Staten on September 8, 2014 at 12:35 pm, and is filed under Fandom, Review, TV. Follow any responses to this post through RSS 2.0.Both comments and pings are currently closed.
Didn't find any related posts :(