Graphic Novel Review: The Sculptor by Scott McCloud
There is a huge difference between a good graphic novel and a great one. Good graphic novels are prevalent–they're beautiful, well-written, and an all-around underestimated genre. Still, a great graphic novel is rare and elusive, and will possess some quality that can't be found in any other book, a unique visual element that the novel cannot subsist without. My favorite graphic novel is Asterios Polyp, which exhibits this quality effortlessly. The Sculptor, Scott McCloud's book that came out in early February, also contains visual elements that make it settle above the crowded alleys of its neighboring competitors.
The story is as follows: David Smith is one of many David Smiths. He's not even the only David Smith in the art world. But one day he's offered a deal by  Death himself–a tremendous gift that would allow him to leave his artistic mark on the world, at the price of his remaining life, which would be cut down to 200 days. David accepts the deal and is given the ability to mold any material with his bare hands, but shortly after meets a girl and falls in love.
At nearly 500 pages, this formidable graphic novel is gorgeously illustrated in blue monochrome. Though this is not McCloud's first foray into books–he has written a few others about comics–it is his first graphic novel. Despite this, it reads like a self-actualized veteran's accomplishment.
The main character, David, is a frustratingly tortured artist struggling to make his mark on the world. He continues his downward spiral even after he receives his thorny but incredible gift from Death. Then he meets Meg–who appears to him as an Angel during a street performance–and immediately falls in love. Meg is the embodiment of the manic pixie dream girl, instantly loved by all who meet her, constantly helping others at her own expense. As the story progresses, Meg's character grows beyond the stereotype. McCloud has addressed the manic pixie trope in interviews. Meg is actually based on his own wife. "I married the trope — what am I gonna do?" he says.
Though The Sculptor does not necessarily tread any new ground, it explores its themes of death, memory, and artistic fulfillment, well. David's artwork, which he takes to the streets, eventually manipulating the entire city to fit his vision, is the needed element in The Sculptor that elevates this novel from good to great. It's a sad tale, but it gives the gift of hope to the reader and the graphic novel enthusiast who wants this art form to succeed.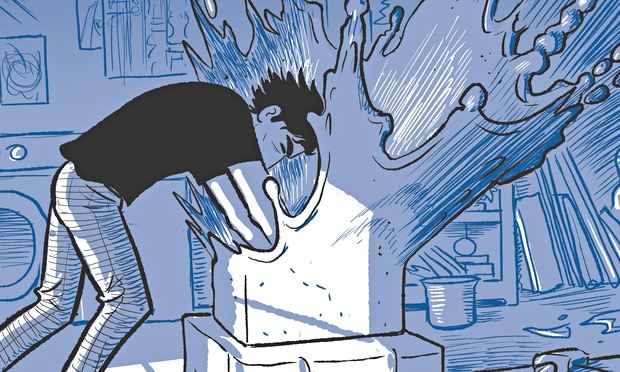 Didn't find any related posts :(